Family Guy: 9x6
Brian Writes a Bestseller
"Brian Writes a Bestseller" is the sixth episode of the ninth season of the animated comedy series Family Guy. It premiered on Fox in the United States on November 21, 2010. "Brian Writes a Bestseller" follows anthropomorphic dog Brian after he publishes a self-help book that becomes an immediate success, following the failure of his novel, Faster Than the Speed of Love. Once he hires Stewie as his publicist, however, Brian becomes increasingly self-centered, and fires him when he continues to botch his schedule. However, when Brian goes on Real Time with Bill Maher, he ends up getting a wake-up call from Maher himself.
The episode was written by Gary Janetti and directed by Joseph Lee. It received high praise from critics for its storyline and many cultural references. According to Nielsen ratings, it was viewed in 6.59 million homes in its original airing. The episode featured guest performances by Dana Gould, Arianna Huffington, Christine Lakin, Bill Maher, Katie Sah and Ashley Tisdale, along with several recurring guest voice actors for the series. It was first announced at the 2010 San Diego Comic-Con International.
The plot may be unintentionally based on the real-life 1969 romance novel hoax Naked Came the Stranger, which was deliberately poorly written by 24 coauthors in an attempt to make a commentary on the literary content of the top-selling books of their time. The average reader completely missed this point and the book became a top-seller itself.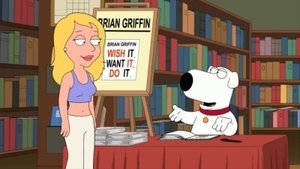 Nov. 20, 2010